Best Branding Agency in Noida, India - Make Your Brand Identity Globally
Market conditions nowadays are so competitive that there are many brands for the same product or service, due to which an organisation goes unnoticed by its potential clients. This is where branding solutions comes into the picture. Team Acwits can help you create a brand identity into this cut throat competitive world by providing you a brand logo, Brochure, Advertisement pamphlets, Mascots, customized Stationery Items. Get Acwits by your side to sideline the competition.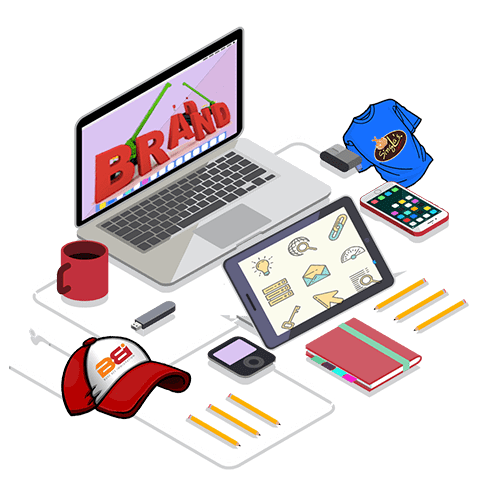 Logo Designing
A logo is the face of the company and a good logo defines the company motto and works perfectly. We strive to create designs which not just reflect the company motto but also the work that your company works hard for. Our logo designs are created keeping in mind the market changes and competition. Curated with the highly skilled team, the logo suits the company profile and enhances the brand value and all this is done keeping in mind the fundamental need for simple and classy designs. If it is hard to find Social Media Marketing Services in India then Acwits Solutions LLP has mastered the art of logo designing for all business types.
Mascot Designing
A fictional character who represents your idea and your brand is a mascot and there is nothing that compares to a great mascot we design. Like a masterpiece, we thread great ideas into creating a mascot which is enigmatic and unique and also makes a powerful brand statement for marketing. A mascot is not just the representative but the persona of the company. We being one of the best web development & digital marketing company in India know what goes into making a good mascot and we get you the concepts that fit you.
Brochure Designing
A brochure can be defined as a paper document which is informative and is used as part of advertising. It is used by business houses as an effective marketing tool. When a company needs to inform their customer about their services, products, and other benefits, they use brochures. Acwits Solutions LLP is a leading company that is providing great social media services in India that masters in brochure designing. They show a great deal of expertise as they implement apt techniques in their designing like using simple statements and right fonts which makes it easier for customers to know about a company's potential.
Company Board Designing
While participating in a conference, business expos or any such event, it is essential to showcase your company information to clients and the applicable method is to use a company board. To make a good impression it is important that your company board must have impressive graphics and text. In this context, Acwits Solutions LLP is a prominent company providing common board designing and other Digital marketing services in India. Their skillful creation helps various businesses to successfully promote themselves.
Leaflets & pamphlet
To market your products or services, marketing leaflets and pamphlets are highly recommended since they are cost-effective and contain all the information about a company. One of a leading company, Acwits Solutions LLP has been designing leaflets and pamphlets among other Digital marketing services in India to help other brands reach out to potential customers. With visually appealing and easy to read features, their leaflets and pamphlets are effective for marketing your brand.
Business Cards
Business cards can be owned by a company or a person and it contains details about the business. During any formal meetings, it is shared with various people. It has the name of the owner or company, business affiliation, logo, contact information like address, fax number, telephone number, website, email address printed on it. As Social Media Services in India has become more pronounced, people can add their social media account address of Facebook, Twitter or LinkedIn. People don't prefer black and white card anymore, so you can get your virtually designed card done from Acwits Solutions LLP.
Customised Stationery Designing
It is the time for personalized and customized everything. Starting from contents to even stationeries. You can have stationary items designed personally for you in a formal way or for some non-professional social way. There can be folded cards, flat cards or even letter sheets which can be personalized. Acwits Solutions LLP helps in getting customized stationery products which reflect the personality of the individual or company. Suppose Web Development Company in India can consider to give their monogram on a matte paper and chooses the color which complements the company motto.
Official Dress Designs
Wearing an official dress in any business is extremely important because it makes the person more presentable and formal. It is important to look professional when it comes to business or any job, so it is essential to have the formal dress code. With the emergence of Digital Marketing Company in India, people have almost forgotten the essence of uniform and business attire has undergone several changes. As everything is becoming digitalized, companies allow employees to come in casual attire but it affects the overall image of the company. You can get your official dress designed from Acwits Solutions LLP.
Print Media Graphics
Print Design involves creating brochures, flyers, book covers, business cards, t-shirts prints, bookmarks, booklets, signs, letterheads, envelope designs, CD cover, posters, print media templates and other such things. Anything that involves graphic designing or forming visual pattern comes under print media graphics. Acwits Solutions LLP is one of the best company that provides with graphic designing. The Web Development Company in India provides with wonderful print media designs by using Pixlr, DeviantART, PicMarks or Adobe Creative Suite. They research their project and also gives extra effort to make it visually appealing.
Restaurant Menu
Along with the ambiance, location the restaurant menu is one of the first things which is noticed by people. It hugely reflects the marketing plan of a restaurant. A cute cafe is going to have all vibrant colors like yellow, violet, pink which makes it look bubbly but a classy, royal restaurant would prefer having some golden, deep red to give an extra depth. Many Social Media Services in India and Acwits Solutions LLP designs extremely personalized restaurant menu cards which reflect the personality and operations of the business.