Mobile App Development Company in Noida, India - Top Mobile App Developers in India
Number of Mobile Phones/ Handheld devices /Smart Phone are increasing very fast which gives a marketplace to brand for promoting their product and boost their sales. Acwits a Mobile App Development Company in Noida Delhi NCR, helps you with customized solutions for Mobile devices. We provide mobile responsive website, mobile based applications (Android/ iOS/ Windows), buying spaces for mobile marketing on different application or websites to reach your target audience. We can develop any kind of mobile applications which is made according to the requirements with best user experience.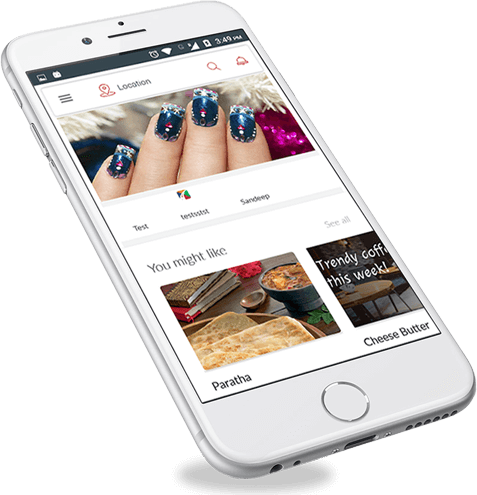 Requirement & Functionality Framing
Most of the Mobile App Development Company in India aims at providing native apps which have rich functionalities and features which can be accessed by the people. Applications have become more reliable, responsive, faster and compatible with the operating system installed in the phone. The functionalities that are required such as complexity of the application, interactive nature of the function, capabilities like GPS etc are noted by Acwits Solutions LLP to ensure there is a smooth delivery of the app and it connects to other web-based applications well.
Screen Designing
Screen design is a method of how to design a screen efficiently. Screen design depends on many factors such as organisation of the screen, language used, aesthetics, distinctiveness of screen components, screen's consistency with other screens, etc.

The users want simple English, clear indication of everything, including options, headings, captions, data and a simple way to find out what is in a system and how to get it out.

Acwits, a renowned Digital Marketing Company in India gives personal attention to their clients for understanding their requirements to build their desired products.
Native Android App
The Native Android applications are application programs that are coded in Java programming language. The native apps being programmed only for a particular platform can interact with as well as take advantage of the characteristics of the specific operating system and other software that are naturally installed on that platform.

Acwits, a Mobile App Development Company in India provides the customers several custom made solutions for Mobile devices.
Native iOS App
Native iOS apps are smart phone applications programmed in Objective C language. They provide fast performance and a high degree of reliability. Further, they have access to various devices of a phone, like its camera and address book.

Native apps are expensive to develop because they are tied to one type of operating system such as iOS in case of Native iOS. Acwits, a Mobile App Development Company in India helps you with customized solutions for mobile devices.
Hybrid Applications
Hybrid apps are a combination of elements of both Web and Native applications. Hybrid apps are often mentioned in the context of mobile computing. These applications can function whether or not the device is connected. They are integrated with a device's file system and with web-based services. They also have an embedded browser to enhance access to dynamic online content. Most applications that we use can be considered hybrid apps.

Acwits, a Mobile App Development Company in India provides different mobile based applications for mobile marketing on different application or websites to reach your target audience.
Third Party API integrations
The Application Programming Interfaces are commonly utilised to ensure smooth-running of data sync with several services and make applications interact with other apps.

Though APIs bring lots of business benefits, it can also introduce some risks to your business with third-party integration. To make the most out of the APIs, you need to examine the API Documentation thoroughly, use APIs that are well tested, check security and focus on scalable APIs.

Acwits, a Web Development Company in India extends its enterprise application integration services by using cost-effective third-party APIs.
Integration with Admin Apps
We at Acwits Solutions LLP, one of the best Mobile App Development Companies in India, boast of skilled in-house administrators who maintain the control of usage of mobiles applications that are permitted to our managed users. Our comprehensive and feature-enriched admin panel empowers to enable or disable mobile apps as per user identification and preferences. The admin app also allows your tool to facilitate addition or removal of users, management of user settings and memberships, creation of groups, customization of security settings and many more.
Deployment on Stores
A software system becomes suitable to use due to software deployment services. The deployment procedure comprises of various interrelated activities with possible transitions among them. These activities can take place on the consumer side or on the producer side or both. As every software system is unique, the precise processes within each activity cannot be defined distinctly. Acwits, a Web Development Company in India interprets deployment as a general process and customizes them according to specific requirements or characteristics.
Mobile Marketing
The multi-channel advertising activity intended at reaching a particular audience through smart phones, tablets and other devices and through social media or mobile applications is called mobile marketing Mobile marketing provides customers with customised information that promotes goods, services and ideas. It is a marketing activity conducted across an omnipresent network to which consumers are connected continuously using a personal mobile device. Acwits, a Social Media Services Company in India aids you in attaining your target audience and achieve the utmost from the resources available.
App Analytics & SEO
The marketing discipline based on growing visibility in organic search engine results is called Search Engine Optimisation (SEO). It includes both the creative and technical elements needed for driving traffic, enhancing rankings, and increasing awareness of search engines. Acwits, a Digital Marketing Company in India, describes all areas of SEO, from finding the terms and keywords that generate traffic to your website, to making your site friendly to search engines, to building links and marketing the unique value of your site.