Social Media Marketing Company in Noida, India - Build Strong Online Presence for Your Brand
Artists/ Restaurants/ Brands all need to maintain their presence on the Social Media. Right from branding of your company to selling of a product, everything could be managed. Platforms like Facebook, Twitter, Instagram, Pinterest, LinkedIn etc, are the latest mode of marketing. These are the places to find the people of this generation. ACWITS is a best Social Media Marketing Company in Noida which help you to reach your target audience and achieve maximum from the available resources. Getting on these social platforms and communicating to your fans or building your community can give a boost to your brand.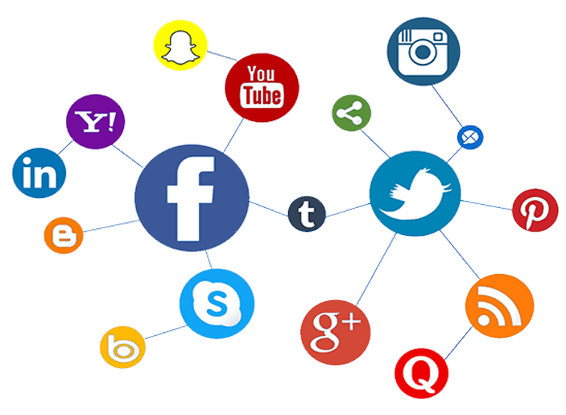 Creating a Handle
A big chunk of the masses needs to be thoroughly educated as far as choosing a nickname or creating a handle on a social media website is concerned. Although many social media marketing services in India are available that let you choose a cool handle, however, the following pointers may prove helpful:-
Choose something original
Be creative
Choose something related to your interest
Avoid choosing offensive nicknames
Avoid using characters/symbols that are difficult to type.
Profiling & Milestones
Social media has become the most apt platform for sharing major life events/milestones. For businesses, it presents untapped opportunities to connect with customers/clients. On similar lines, profiling allows defining of target groups precisely and effectively. Together, both allow businesses to build a healthy and hearty community and following on Facebook and Twitter, thereby ensuring effective penetration of the business among the masses. Availing the services of an established Social Media Marketing Company in India may be of great help in this direction.
Serving Infographics
A vast majority of marketers believe in the increased effectiveness of visual content than textual marketing. Publishers who employ infographics find their traffic volume multiplying manifolds than those who don't. Acwits Solutions LLP as a foremost Social Media Marketing Company in India has handpicked the best-in-class creative talent out there, just for you. Whether your project on infographics requires design, finest quality art direction or impeccably written content, we are ready to help you. Collaborate with our top-of-the-line graphic designers to create infographics wizardry that stands out.
Audience Engagement
Audience engagement defines the extent to which visitors to your website express curiosity or actively involve with your content. Enhancing audience engagement is imperative as participative users are more distinctly probable to trust your brand by returning more often to your website, visiting more of its pages per session and subsequently converting to your paid subscribers. Acwits is a leading Social Media Marketing Company in Noida, India which helps in identifying the metrics essential to encapsulate the degree of engrossment and association website visitors show in your content.
Building & Managing Campaigns
A proper campaign sparks off with a responsive, scalable website design across multifarious platforms. It follows with the management of numerous social media accounts comprised of different audiences with varied content requirements, then the buildup of a profit-worthy email marketing program and culminates in garnering the targeted revenue from all these online efforts. We at Acwits, offer excellent Social Media Marketing Services in Noida, India to run a winsome campaign with our cutting-edge integrated technologies and in-house digital well- versed talent of campaign managers.
Building & Managing Contest
We leverage gamification and incentivisation to garner more leads, traffic and engagement. We at, Acwits Solutions LLP, offer futuristic Social Media Services in Noida India, providing a cutting-edge solution with the whole lot you need to build, run and manage successful contests or giveaways. Our innovative contest management offerings give you powerful and intelligent tools to organize and handle virtually any kind of award contest or competition irrespective of the scale or the prerequisites. The service includes management of entry registrations, submission, voting, fraud control and in-depth analytics.
Applauding Audience
Currently, GIFs are considered as first-rate digital marketing strategies which can be leveraged with a plethora of benefits they provide. GIFs, for example Applauding Audience, are efficient promotional tactics as they make available visually appealing images, convey apt messages and pieces of information and enhance customer entertainment and engagement. Our Social Media Marketing Services in India, at Acwits, offer professional GIF creation solutions whereby you can draw up sophisticated GIF images with our compelling and affordable software tools to reap substantial profits.
Customer Relationship Management
Customer Relationship Management helps to improve the lead conversion rates, customer retention, increase revenue per salesperson, reduce sales cycles and decrease sales and marketing costs. When it comes to offering a CRM solution, the one size fits all businesses theory doesn't hold well. CRM deliverables offered by Acwits Solutions LLP, a renowned company providing Social Media Marketing Services in India enable you to engage with customers, derive business-centric insights, forecast customer behaviour, acquire more leads and develop an immensely scalable sales organization.
Paid Ad Management
Having concerns handling your paid advertising? Going ahead for the first time and clueless about what to do? We can aid and abet. Our management workforce at Acwits Solutions LLP, a reputed Social Media Marketing Company in India, renders daily personal attention to every campaign to bring on calls, leads and sales for your business. Our Pay Per Click campaigns can garner towering returns of all your advertising efforts. It's absolutely quantifiable so that we can follow all your conversions and comprehend the exact customer buying behaviour.
Reporting & Insights
Visibility of your critical business metrics is imperative as it assists teams to fixate on the same page, monitor the trends over a certain period of time, and make necessary changeable actions to your app based on real user data. We at Acwits Solutions LLP offer an all- inclusive Reporting and Insight consulting services as a top-tier Social Media Marketing Company in India . We help you to compare custom reports and custom dashboards that allow you to reveal insights and derive new conclusions for your business goals.